Avatars appear to the left of a user's post, in their profile and are used to create individuality. These are custom LEGO Minifigures that users can create by clicking the 'Edit Profile' tab in the top right corner of LEGO.com. Avatars help other users to identify you easily. The Default Avatar is the avatar you first have on the MBs and LEGO.com until you edit or change it. On June 8, 2011, in the Default Avatar Glitch, the default avatar was shown on all posts, even though the avatar on the edit profile page never changed. A similar thing happened in the Avatar X Glitch, where everyone's avatar showed as an X in Internet Explorer.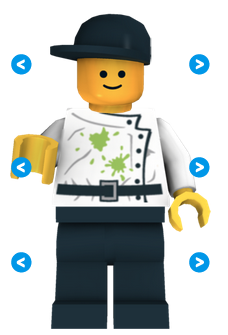 Combinations
Each avatar is composed of three different parts: Head, Torso, and Legs. There are currently 294 heads, 100 torsos, and 103 legs. This can be verified by looking at the source code on the Edit Profile page. This leads to a total 3,028,200 combinations of an avatar. Most newbies don't change their avatar, specifically if they don't stay for more than a couple of days. Some people don't change their avatar at all, even if they are very active and post often.
LEGO Friends
It is possible for one to change their avatar from the classic style minifigure to that of a LEGO Friends minifigure. This is done with the LEGO app, LEGO Friends – Meet Us. In the game, players may choose to create an avatar, and then use it on the LEGO Message Boards.
Gallery
This article is
good
.
Comment: If somebody who has played LEGO Life could add avatar information concerning that, that would be great