Emoticons
Talk

6
3,137pages on
this wiki
For info about Emoticons from the Old LEGO Message Boards, please look here.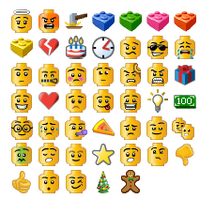 Emoticons, aka Emotes, are small icons you can add to your posts. MB Emoticons are likely a replacement for the small smileys used at other sites.
You can use all the known emoticons by clicking on an emoticon button on the toolbar above the post box, then clicking the emoticon that you wish to use. This inserts a character string into the post, that will be interpreted as an emoticon after the user hits the "Post" button.
The Tongue Smiley emoticon, (

 ), is the most widely used emoticon on the Lego Message Boards.   This is a list of all the emoticons, and the ways to type them manually.
Current Emoticons
Edit
This is the current set of emoticons. It was added in The 2012 Update.
Holiday Emotes
Edit
The Smile ( ) is the only emoticon with brown eyebrows.
The feature to use the more common :) :( :'( :D, :P emoticons is also available