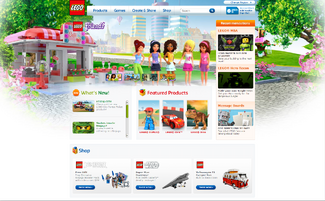 LEGO.com is the official LEGO website. It is the place where you can find the LEGO Message Boards along with all the pages for the different themes, LEGO Club, My LEGO Network, online games, and much more.
History
LEGO.com started in 1996 with the LEGO Shop, a game, and a couple pages about products. In 2001, the LEGO Message Boards started. In 2005 the Message Boards and LEGO.com were updated. My LEGO Network started in 2008, and the same year the LEGO Club Account was changed to the LEGO ID, which brought many more features and updates for the account. In October 2010, the website was updated once again. It was updated once again in 2014, and again in 2015.
Ad blocker interference detected!
Wikia is a free-to-use site that makes money from advertising. We have a modified experience for viewers using ad blockers

Wikia is not accessible if you've made further modifications. Remove the custom ad blocker rule(s) and the page will load as expected.