This page is an archive of the old LEGO Message Boards. Feel free to correct mistakes and add information, but please do not update the post count, image, or rank.
---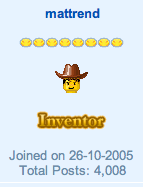 Mattrend is a user who joined the LEGO Message Boards on October 26, 2005. He had the rank Inventor, 4,008 posts, and all 8 studs when he retired. Mattrend liked posting in Talk to the Mods, where Jammyjam10 would answer lots of his questions.
Signature
He had no signature.
Ad blocker interference detected!
Wikia is a free-to-use site that makes money from advertising. We have a modified experience for viewers using ad blockers

Wikia is not accessible if you've made further modifications. Remove the custom ad blocker rule(s) and the page will load as expected.