This page is an archive of the old LEGO Message Boards. Feel free to correct mistakes and add information, but please do not update the post count, image, or rank.
---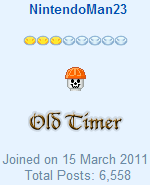 NintendoMan23 is a user who joined the LEGO Message Boards on March 15, 2011. He had the rank Old Timer, 6,804 posts, and 3 studs. He posted in several forums, particularly in the Community Chat Forum.
Signature
He had no signature.
Ad blocker interference detected!
Wikia is a free-to-use site that makes money from advertising. We have a modified experience for viewers using ad blockers

Wikia is not accessible if you've made further modifications. Remove the custom ad blocker rule(s) and the page will load as expected.