TECOTAL™ (The Epic Clash Of Trivia And Logic) was a Game Show made by Genralaustin to replace TLGS. It was supposed to start on September 20, however the launch date had been pushed back many months because GA wanted at least 25 contestants to join, and only 16 of the spots had been taken so far. The first 5 people who joined got 1 Logic Point. Logic Points were like special bonuses, and after you got 5 Logic Points you would get a 1 question veto. It would be held in the Message Board's Quizzes topic, and the reward was 500 clicks on My LEGO Network. The name "TECOTAL" was created by Riolu777. The show, however, was put on hold until 2012, and returned for a short period, but has gone inactive again.
Remaining contestants in TECOTAL Season 1:
As of now, TECOTAL has been inactive along with Genralaustin and is so far not being continued by Riolu777, the user who now owns the rights to the gameshow.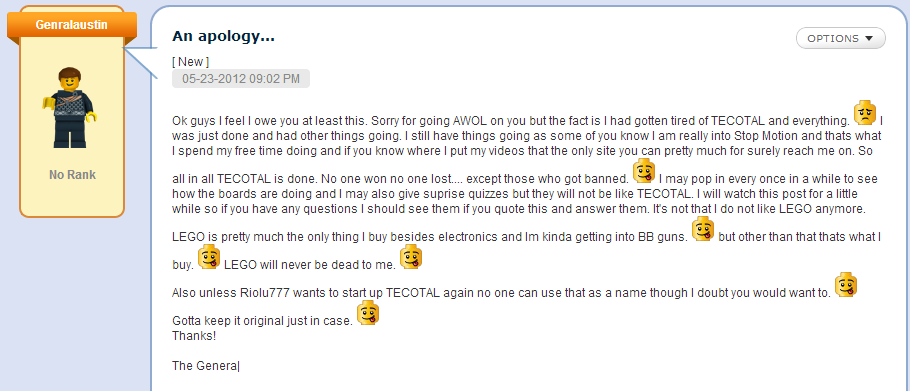 Trivia
It was the successor to GA's previous game show called TLGS, which ran through 5 editions
See also
Ad blocker interference detected!
Wikia is a free-to-use site that makes money from advertising. We have a modified experience for viewers using ad blockers

Wikia is not accessible if you've made further modifications. Remove the custom ad blocker rule(s) and the page will load as expected.